Official website of
MIKE DIANA

| | |
| --- | --- |
| In 1994, Mike Diana was thrown in jail without bail on obscenity charges, for publishing, advertising,and selling his zine BOILED ANGEL. Mike was on probation for 3 years, terms included fines of $3000, no contact with minors, 1280 hours of community service, maintain full time employment, and at his expense, see a psychiatrist and take journalism courses; AND no drawing for his personal use... his home was subject to unannounced searches by local police to make sure he was complying. | |
| | | |
| --- | --- | --- |
| June 4, 1996: a ruling by Largo, FL Judge Douglas Baird declared Mike Diana's zines, Boiled Angel #7 and #ATE obscene. He said he personally found Diana's comics "patently offensive" and stated "the evident goal of the appellant's publication is to portray shocking and graphic pictures of sexual conduct so it will be noticed...." Mike Diana was served with another 2 years of probation, including $2000 in fines, and same probationary terms. | | The Comic Book Legal Defense Fund estimated over $56,000 has been spent on Mike's case to date. "It's futile that Mike's case is appealed to the State court as the State of Florida's history of overturning is nil." stated Susan Alston from the CBLDF |
for more info, to schedule an interview with Mike, buy artwork, comix, etc,
contact: jefe (at) testpress (dot) net, or join Mike's email list below
NEW from MIKE DIANA!
Mike Diana's artwork graces the new CD from
pop-grindcore-comedy-homocore-rock band
TOTALLY FUCKING GAY!
We have a limited run of 100 CD's to sell,
with half the proceeds going to Mike for contributing
his artwork. CD purchase includes free download of entire CD

listen and buy on bandcamp, or directly from Mike,
only $8.00 + $3 shipping in the US.

click a dick!
PATCHES!
3 brand spanking new patches are the first in what will hopefully
be an ongoing production from Mike. only $10 postpaid each
3 for $25! int'l add $2 shipping.
each patch is approx 3.5 inches
NEW Firebrat book!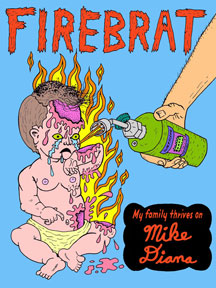 large hardcover format (12" H x 8.5" W)
203 pages
contains older works, some never-before published until now,
contains brand new 23-page Firebrat story
signed personally by Mike Diana, by request
$50.00 + shipping ($8 US, media mail)
($38 international first class)
Loosey
LIMITED EDITION PRINTS!
Horrible new low price!
| | | |
| --- | --- | --- |
| | | |
| Happy | Leroy | Gertrude |
| | | |
| Uncle Melty | Cleve | Slithers |
| | | |
| Boggy | Baby Blue | Neil |

limited edition prints on hi-quality photo matte paper
all signed by Mike Diana
$20 each
Set of 3 = $50
Complete Set of 10 only $150
(plus postage $5 USA, $15 Int'l)
MIKE DIANA IN BERLIN
April 30th 2015 through May 24th, 2015
presented by Divus
FOR SALE!
limited edition copies of
only US$100 each!
(+ postage)
these copies come from Mike Diana's stash, and the proceeds go right to him.
You can buy them cheaper online or at amazon, but when you purchase direct
from Mike, you help support his art; Mike will sign copies for you, and probably
include a little extra something to make your heart sing!
Mike Diana on the Radio!
Click the logo for a cool interview with Mike Diana
and article by Hans Anderson
New "Just Say Yo" story by Sam Joyce
illustrated by Mike Diana

Attention: French fans of Mike Diana, and those close to France!
Come check out Le Dernier Cri exhibition of Mike Diana comix, featuring
artwork from the Divus traveling collection and AMERICA:LIVE-DIE collected works.

see pictures from the exhibition
MIKE DIANA
PETIRAMA DU 14 FEVR AU 16 MARS
FRICHE BELLE DE MAI / IMPASSE ANTONIN ARTAUD
OUVERTURE VENDREDI / SAMEDI / DIMANCHE
VERNISSAGE LE 14 FEVR À 18H
PRÉSENTATION DU LIVRE AMERICA LIVE DIE
COMPILATION DES PLANCHES INTERDITES DE DIANA AUX ÉDITION DIVUS

"Just Say Yo" Sam Joyce stories
illustrated by Mike Diana

On Saturday, July 6th, Spectacle Theatre in Brooklyn will present a double-feature
of Mike's films BLOOD BROTHERS and BAKED BABY JESUS
with a special Q&A with Mike Diana between screenings!
http://www.spectacletheater.com/
July 2nd thru 4th @ Superchief Gallery (@Culturefix - 9 Clinton Street)

July 2nd: 6PM-11PM - America: Live/Die Book Release Party
July 3rd: 6PM-11PM: Performance Anxiety - Performance Art Showcases start at 7PM
July 4th: 1PM - 6PM: Independence Day Closing Party
Mike will be hanging out signing posters and doing live drawings
(the gallery will close at 6PM, not 11PM... sorry, folks needs their fireworks)
JUST SAY YO, YO, YO, MIKE DIANA!
Mike illustrated the latest stories from Sam Joyce's JUST SAY YO! Tumblr. site.
Truly wild short stories and articles on recreational drugs, lending themselves
perfectly to Mike's psychedelic stylings. click below for bigger graphics/Tumblr. stories.
more to come...!


MIAMI ART MUSEUM
May 16th, 2013: A Talk with Underground Cartoonist Mike Diana


great article from Miami New Times:
Mike Diana Returns to the State That Convicted Him of Obscenity

Mike Diana - AMERICA
MASSIVE Limited edition box set - two books of cartoons, drawings and paintings
by convicted comic artist Mike Diana, put together by Divus/London
Two volumes in original cardboard box
All together 528 pages of cartoons, drawings and paintings on fine paper
17 x 25 x 8 cm
(6.5 x 9.25 x 3 inches approx)
LIMITED TIME PRICING:
US$100 + $20 postage and handling (it's heavy!)
International postage/handling = $35

Paypal mikediana@testpress.net (add $4 for paypal fees)

special signed postcard (some with original drawings) with America orders
while supplies last!
"The book America, covering more than two decades of Diana's work, shows a magnified reflection
of the society that deemed his artwork a crime. Much of Diana's work portrays outsiders repeatedly
being punished by the unforgiving nature of their surroundings; where the sensitive types are
gangraped, tortured, dismembered, pissed upon and left for dead. Drawing parallels with the
Franz Kafka book of the same title wherein oppressive and intangible systems force scorned
individuals to plead their innocence in front of remote and mysterious figures of authority."


NEW! Mike Diana Putrid Portraits!
Putrid Portraits start at $200 for b/w, $250 for color.
Jefe aka Johnny Chiba will animate it for you free!
Baked Baby Jesus video,
first released in 1990. Now available for the first time
on DVD in a special first printing - signed and numbered
out of 100. Special commentary track disc with Mike.

In 1991, this video was reviewed by the Florida state attorney's office at same time as Boiled Angel #7-#8, but no charges were filed against the video as obscenity.
120 minutes .
$25 + $4. postage in US
| | | | | | | |
| --- | --- | --- | --- | --- | --- | --- |
| Superfly Comic | | | Superfly 2 | | | |
---
ORIGINAL INK DRAWINGS
| | | | | | |
| --- | --- | --- | --- | --- | --- |
| | | | | | |
BOILED ANGEL ORIGINAL INK PAGES

MORE ORIGINAL INK DRAWINGS
ORIGINAL COLOR ART
Signed, Silk-Screened Poster Prints
| | | | | |
| --- | --- | --- | --- | --- |
| | | | | |
Acrylic on Canvas Board
| | | | | | |
| --- | --- | --- | --- | --- | --- |
| | | | | | |
Glow in the dark paintings! click
Linoleum Prints & T-Shirts
Original Colored Pencil Drawings
ORIGINAL PEN and INK with WATERCOLOR - $350 each
| | | | | |
| --- | --- | --- | --- | --- |
| | | | | |
| Knife Eyes | Cut-Off | Deer Head | Trophy | Humpty Dumpty |
| | |
| --- | --- |
| | |
| Rat Food | Big Green |

COLLAGES
LIMITED EDITION DIGITAL PRINTS
| | | | | |
| --- | --- | --- | --- | --- |
| hellgrammite | litterman | | | |
MULTI-PAGES

T-SHIRTS custom-made by Mike - $25 each
All T-Shirts Custom-screen printed personally by Mike - only $25 + shipping

US Shipping: $5 /shirt
Int'l Shipping: $15 / shirt
(Extra $ for Priority, Air Mail)
Paypal: add $2/shirt (email : mikediana@testpress.net)

COLORS: Black or White Ink
on white, black yellow, green, or red t-shirt
| | | | |
| --- | --- | --- | --- |
| | | | |
| | Boiled Angel#1 | Boiled Angel Lives (b) | Boiled Angel Lives (w) |
| | | | |
| Take Me To Your Leader (w) | Take Me To Your Leader (y) | Voodoo Zulu | Half-Dead Freak |
| | | | |
| Lake Monster | Head Grub | Kill | Dicks |

Other cool MD stuffs for sale



Rare 7" Vinyl: $20
foldout cover!

Selections from
WE WILL FALL:
The Iggy Pop Tribute
for LIFEbeat
with
PANSY DIVISION
ADOLPH'S DOG
(aka Blondie)
JOAN JETT & THE BLACKHEARTS