Mike Diana Updates!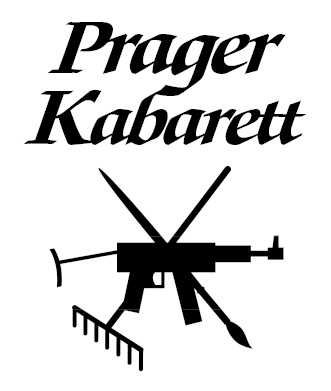 Mike Diana Exhibition in Prague
Nov 1st - Dec 14th, 2013
Opening: Friday Nov 1st. 2013, 6pm
American artist Mike Diana and Divus bringing spectacular London show to Prague.
Exclusive exhibition of cartoons, drawings and paintings by convicted comic artist Mike Diana -
merciless critic of social hypocrisy. Exhibition and big book LIVE-DIE of collected works.

New "Just Say Yo" Sam Joyce story illustrated by Mike Diana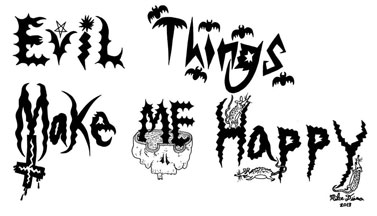 NEW! GIANT ART BLOWUPS FROM MIKE DIANA'S
SUPERCHIEF GALLERY SHOW
for sale!

Mike Diana Superchief Interview
hello!

Putrid Portraits
More putrid portraits of birthday boys reign supreme! Animated!!

JUST SAY YO, YO, YO, MIKE DIANA!
Mike's newest illustrations of Sam Joyce's wild short stories

Mike Diana - AMERICA
Mike still has a number of copies left of this MASSIVE Limited edition
double-book box set of cartoons, drawings and paintings
put together by Divus-London out of Prague, Czech Republic

NEW T-shirts
New shirts in stock and more!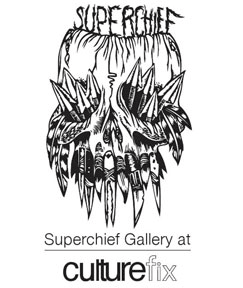 click logo for pics of Mike's Superchief show


limited edition giant prints (60" x 40") displayed at Superchief,
on sale now, only $100!
Mike Diana Superchief Interview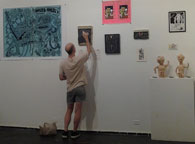 PUTRID PORTRAITS
Let Mike draw a personal putrid portrait of you, a loved one or anyone!
We'll animate it free! Just send Mike the pic you want putrified!!
see animated versions here
putrid portraits of birthday boys
Jacques, Laurent and Matt get putrified!
Mike Diana Putrid Portrait Cost
$250 black/white
$350 color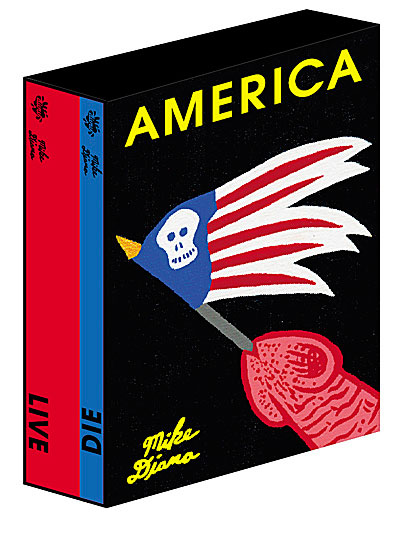 Two volumes in original cardboard box
Volume 1, LIVE, 400 pages
(113 comix, many multi-pages!! insane!!)

Volume 2, DIE, 128 pages
(hi-res color paintings, drawings, cd covers, rarities!)

All together 528 pages of cartoons, drawings and paintings on fine paper
17 x 25 x 8 cm
(6.5 x 9.25 x 3 inches approx)
LIMITED TIME PRICING:

US$100 + $20 postage and handling (it's heavy!) (total = US$120)
International postage/handling = US$35 (total = US$135)

Paypal mikediana@testpress.net (US: add $4 for paypal fees, Int'l: add $6 for paypal fees)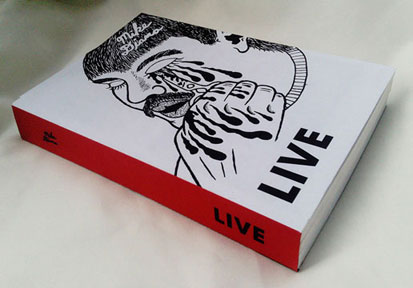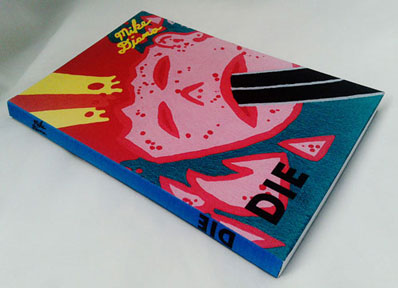 Underground comic artist Mike Diana was the first ever artist to receive a criminal conviction for obscenity for his artwork in the United States of America. Now, DIVUS London brings America- over 500 pages of rare, limited and out of print cartoons, drawings and paintings together for the first time. This double book box set contains an introductory essay by Marisol Rodriguez and a foreword by Neil Gaiman.

Mike Diana's style is the one of most unforgettable in contemporary painting and drawing; the bright bold colours of western advertising are combined with rough black lines drawn with the audacity of a Japanese master to form the twisted characters that populate his world. Diana became known in the early nineties for his terrifying child-like drawings published in his Boiled Angel papers. Originally made privately on a Xerox machine and released in only sixty copies, these comics are now hunted by collectors ready to pay thousands of dollars for only a few pages. These drawings have grown over two decades into an amazing body of work; the main theme of which is a cautionary one, a warning that the adult world is a sick and twisted place. Mike Diana never wanted to be a serious member of the rational adult world, because in his opinion the neo-liberal community of elders he chooses to reject is more guilty of the perversions that they routinely employ the conservative media to identify as 'moral failure'. Mike Diana work portrays the adult as a hypocritical sanguinary monster, and the kid as his honest cruel opposer.

Diana's work contains graphic and often shocking depictions of society's most serious problems; child abuse, incest, rape, religious corruption and murder. In Diana's universe the whole world is tragedy: Religion, family, childhood, friendship, school, adolescence, community, and injustice take centre stage. His work is characterized by his honest and unapologetically vulgar treatment of mainstream American culture and the underlying hypocrisies that exist in that contemporary society. His stories maintain at their core, an anti-moralistic and anti-religious edge using an unflinching visual violence. His blasphemy is so frank that it cannot be ignored. American police and courts certainly felt so as in 1994 Diana was thrown in jail for 4 days without bail, put on probation for 3 years, fined $3000, forbidden from contact with minors, ordered to do 1280 hours of community service whilst maintaining full time employment, and ordered at his own expense, to see a psychiatrist and take "moral" journalism courses.

The book America, covering more than two decades of Diana's work, shows a magnified reflection of the society that deemed his artwork a crime. Much of Diana's work portrays outsiders repeatedly being punished by the unforgiving nature of their surroundings; where the sensitive types are gangraped, tortured, dismembered, pissed upon and left for dead. Drawing parallels with the Franz Kafka book of the same title wherein oppressive and intangible systems force scorned individuals to plead their innocence in front of remote and mysterious figures of authority.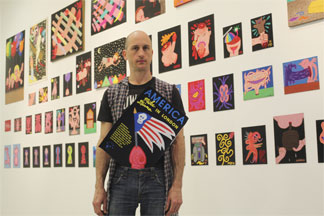 Mike Diana in London at Divus Art Show
MIKE DIANA T-SHIRTS
(personally screened by Mike)
| | | |
| --- | --- | --- |
| | | |
| Boiled Angel Yellow - size XL | Priests Fuck Little Boyz - size XL | Boiled Angel Green - size XL |
these five shirts are currently in stock.
all other shirts are screened by Mike upon order.
| | |
| --- | --- |
| | |
| Boiled Angel Nancy - size smal | Boiled Angel Nancy - size XL |

NEW SHIRTS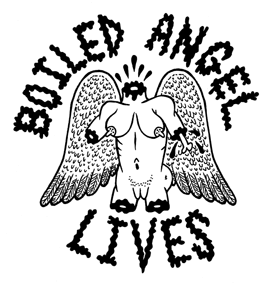 New T-Shirts to celebrate the forthcoming
MIKE DIANA - "BOILED ANGEL LIVES" BOX SET!
Compiles the out-of-print Boiled Angel issues #1 - #8
in their original format, reprinted for the first time ever
(Box Set release date: Fall 2013)

All shirts: $25 each - specify preferred color and size (S, M, L, XL)
shipping = $5 to US, $15 International
NEW T-SHIRT! 2 colors!
"Take Me To Your Leader"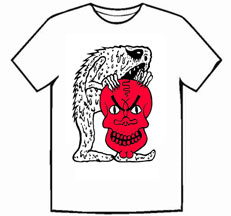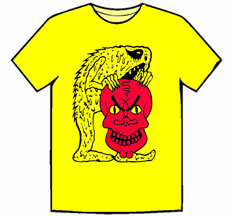 $25 each - specify color shirt and preferred size (S, M, L, XL)
shipping = $5 to US, $15 International



UPCOMING MIKE DIANA COMIX
sneak peeks at cool new shit!


SUGARFANG
(to be published by DIVUS)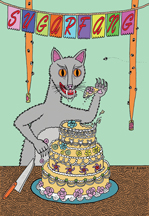 Sugarfang is a collection of black/white comix and art
compiled of older unpublished comix and new comix created
exclusively for Sugarfang. will be approx 180-200 pages
(release date: Summer 2013)
DOO-TEE
(to be published in limited silkscreen edition
by the great Le Dernier Cri)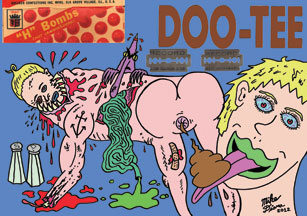 little drawings from Mike Diana's subway sketchbooks
and other drawings made especially for Doo-Tee
(release date: Summer/Fall 2013)

CONTACT INFO

jefe (at) testpress (dot) net
Mike Diana c/o TEST PRESS
PO Box 1582, Cooper Station
NY, NY 10276


mikedianacomix.com
more info, pics, comix, paintings
and archived artwork added all the time!
Mike's looking for a webmaster!
want to trade artwork for your skills?
contact us today!